Hurtling towards Yule, textile journals.....and oh my word, it's been a while!!
Posted on
Hi....and huge apologies for not getting around to an update for sooooooo long! I hope you are all well and life as you know it is as good as can be.
It's going to be a long one....so get a cuppa and a piece of cake.....or a couple of biscuits at the very least, and make yourselves comfy :-)
I don't know where the last few months have gone, I seemed to have blinked and missed it. The first lockdown summer of 2020 I have lots of memories of but this last summer seems to have sped past in a messy blur! There were lots of things I wanted to do but never got around to. I'm not sure if it's just me and my usual disorganised muddled head or if this year was stranger than the last in a way. Hey ho! We are here now, heading towards the end of November and I'm still disorganised....as usual.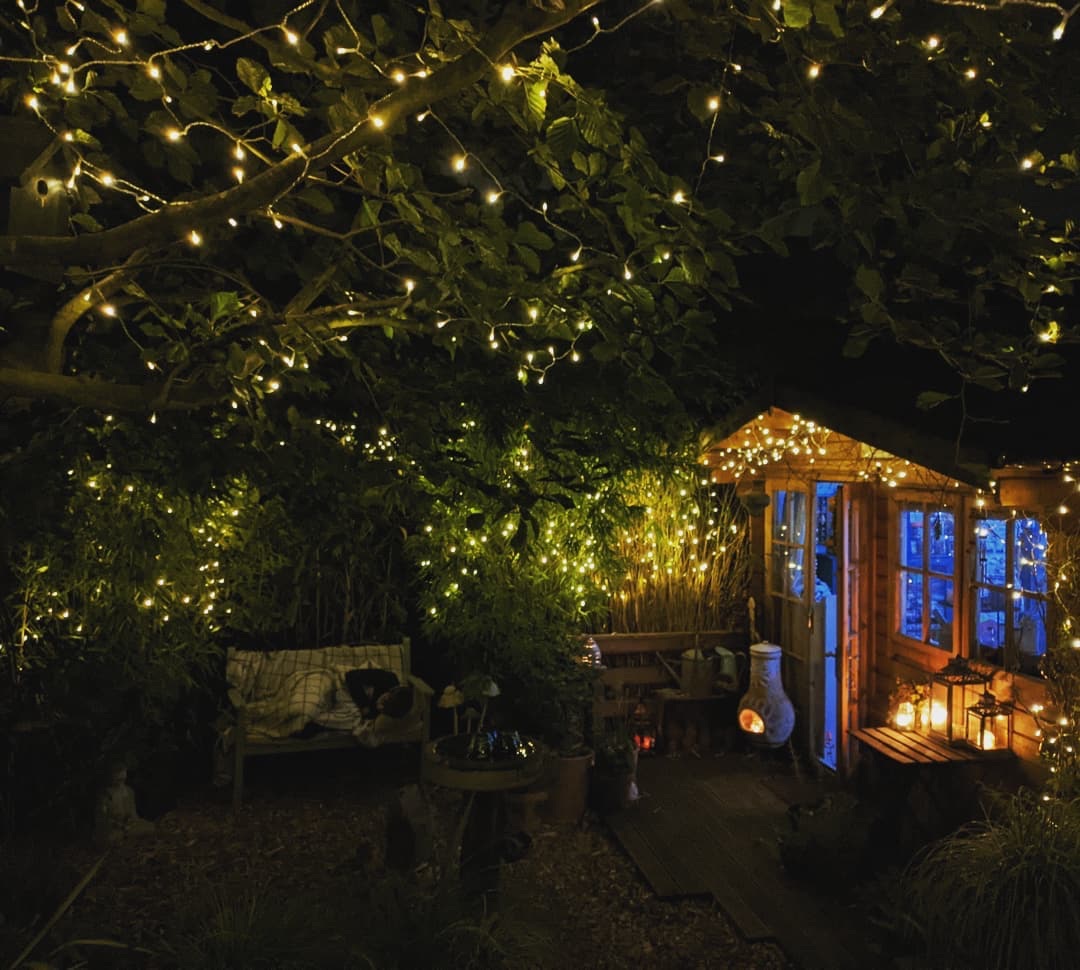 A beautiful late summer night in the garden.....with fairy lights.....of course.
Although I have very little ready for Yule personally and family-wise....apart from buying more fairy lights (you can never have too many) I have been beavering away like a mad woman making new work. Yes, I started late as always, but have tried to make a selection of treasures to tempt you with at markets, events and online. Lovely one of a kind gifts or self treats that will bring you joy and add a bit of beauty and whimsy to your home.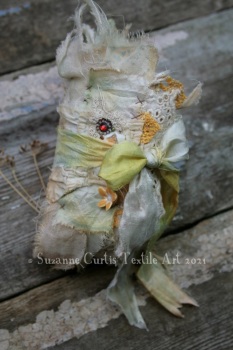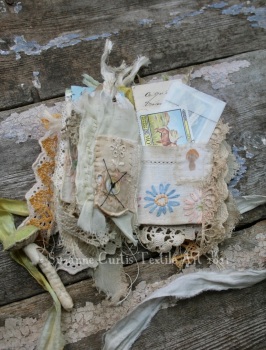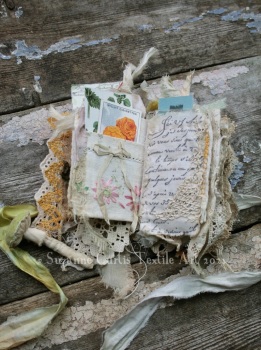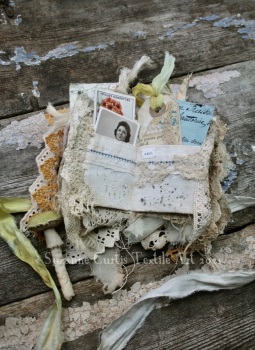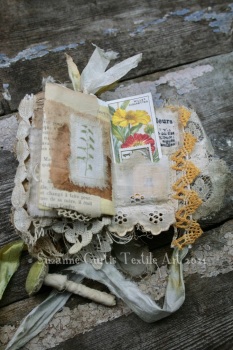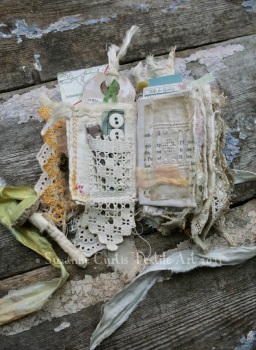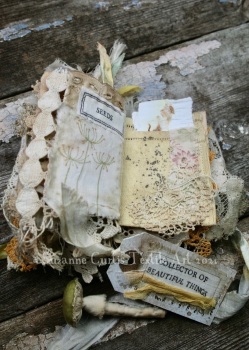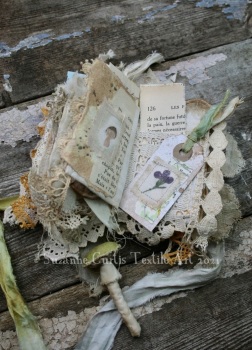 Mini Textile Journal - T
One of my favourite things to make, besides my beloved shrooms, are the textile wraps and journals. I think this is because I can indulge my love of not just the beautiful antique and vintage textiles I source and collect but my love of all the vintage ephemera.....so I can get sticky and messy with ink, dyes, book pages, rubber stamps and beads, charms and other treasures. I can sew fabric to paper, stamp, stain, stitch and tear whilst enjoying every minute and anticipating the excitement and pleasure the finished piece of work will give the recipient.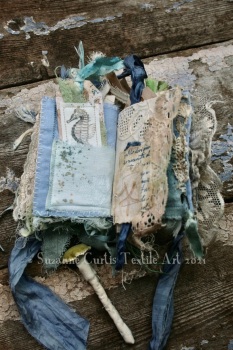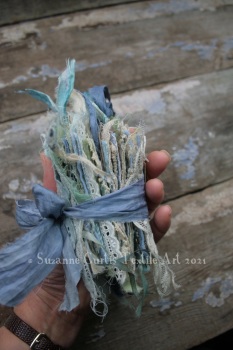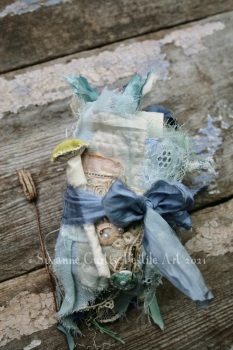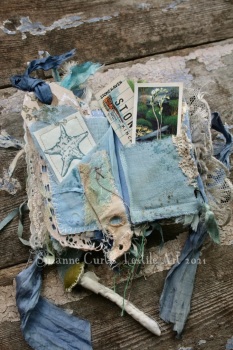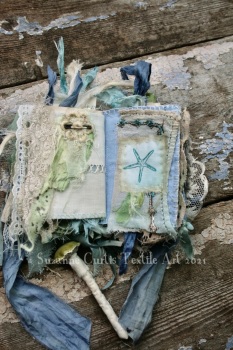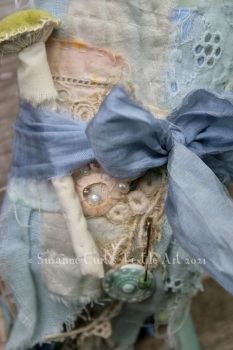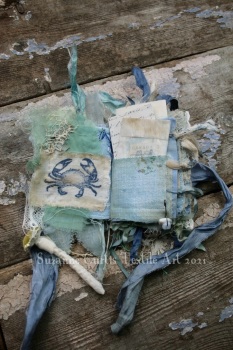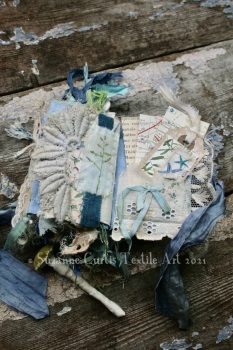 Mini Textile Journal W
These mini journals started out as vintage handkerchiefs or very small tray cloths and mats. The plan was for them to be very small but once I added wadding inside some of the pages and all the old trims and lace they grew a bit in size. Inner pockets were added to hold the vintage ephemera and the pages were then hand bound using thick thread.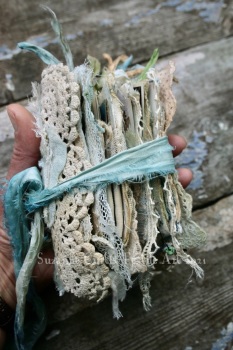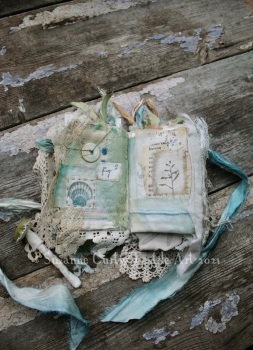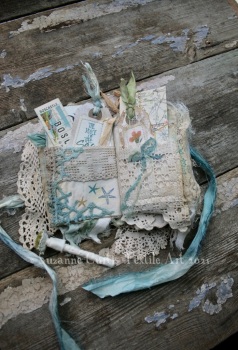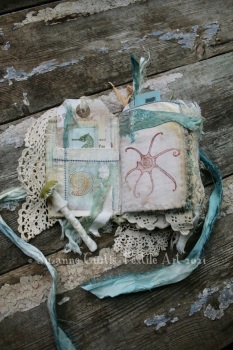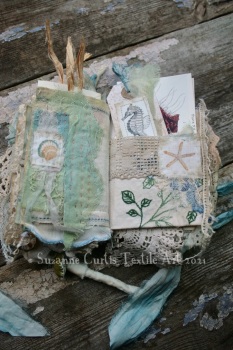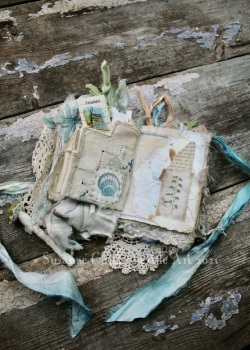 Mini Textile Journal Y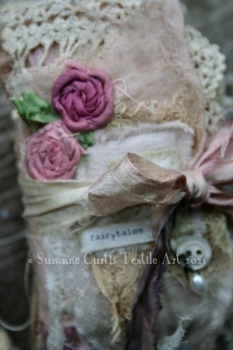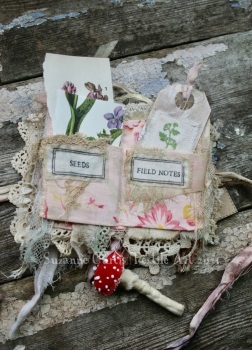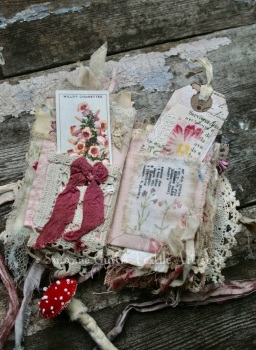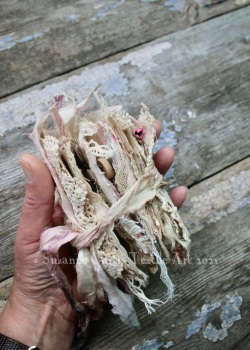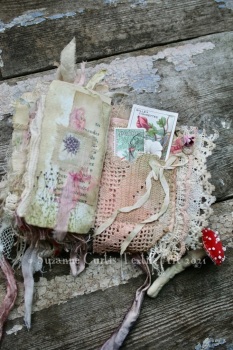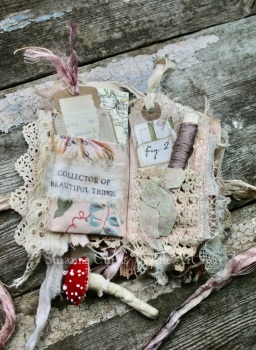 Mini Textile Journal M
I love all of the process of making these little journals....but most of all the embellishing of the pages. I've always loved rubber stamping onto textiles...there are so many possibilities with a stamped image, mindfully hand stitching them on or machine sewing them onto paper or book pages or even embroidering them. In the small details I can really indulge my love of mixed media nad vintage ephemera. I never throw any scrap of paper or textile away, it all has a use and often sparks the idea for the project.....right down to the tiniest fragment of lace the size of a pencil top it is saved and added into the detailing of something.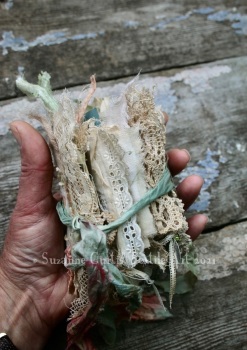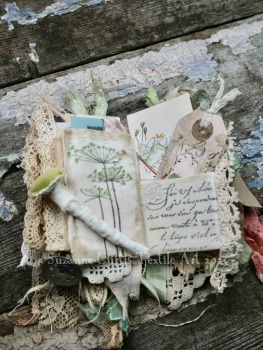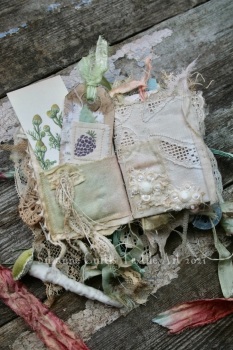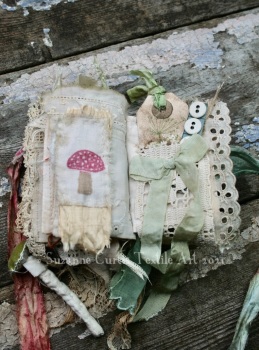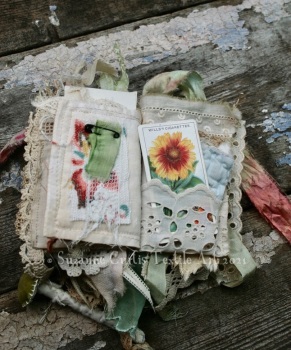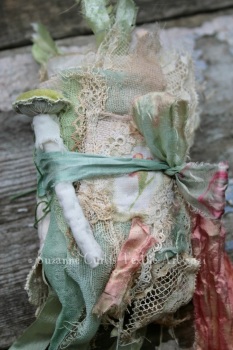 Mini Textile Journal O
I've tried to show a good selection of images of the pages of each journal, along with the images in the shop....should you wish to own one, there may be a few pages not shown...but that will be a nice surprise for whoever buys it. A lot of time and love has gone into the creation of these and I hope those who do buy one love, cherish and treasure it as much as I have enjoyed making it.
The other thing I have enjoyed this autumn is getting out into nature whenever possible. Although I didn't get out as much as I wanted as hadn't been well then became very busy playing catch up with all the work I needed, and wanted, to make. Worried I may have missed my favourite and very magical Fly Agarics I set out into the beautiful Peak District last week with a good friend. Thankfully the Peak didn't dissapoint.....not that it ever could, it's so soothing and peaceful there and even without shrooms we find the most wonderful natural treasures. On the list next year is a fungi foraging course......I'd so love to have the knowledge and confidence to pick at least a few tasty...and safe, shrooms.
Mentally soothed after a lovey day, it was back to work and busy getting ready for my remaining events and a creative group....the first since that initial lockdown. Lets hope next year things will be more normal and I can get to see some of you properly again.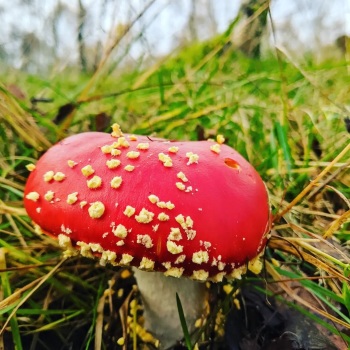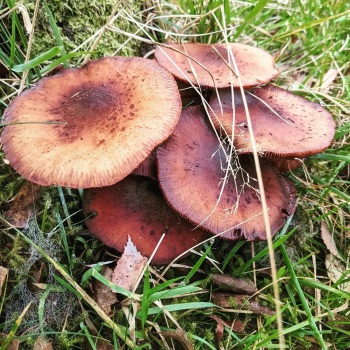 ......and don't ever forget.....no one is too old for fairytales,
magical wishes, Suzanne xx